"My Rich, Crazy Uncle Died, and I am named as Executor. What should I do?
A Beginner's Guide to Probate"
April 7, 2022  |   12:30 pm – 1:30 pm ET

Please join us for a CLE* (free) webcast and learn about Probate.
Our presenter Edward W. Greason, Of Counsel, is well-versed in estate planning, probate, and administration of estates and trusts, and will cover:
Jurisdiction, Probate v. Administration, and Probate Proceedings
Duties of a Fiduciary, including the Collection of Assets and Appraisals
Settling the Estate
Register Here. This event has ended.
(Zoom contact information will be sent to you upon registration)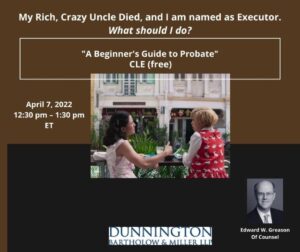 [*] "Dunnington, Bartholow & Miller LLP has been certified by the New York State Continuing Legal Education Board as an Accredited Provider of continuing legal education. This course or program has been approved in accordance with the requirements of the New York State Continuing Legal Education Board for a maximum of 1 credit hour in Skills, acceptable for transitional credit for established and newly admitted attorneys.
For information and to apply, please contact Tina Carter, Office Manager, at

[email protected]

.  All requests are confidential.