Doing Business in the United States, a guide to assist business leaders, startups and individuals in navigating the most important business law issues facing foreign investors and entrepreneurs is now available for download. The investment and regulatory environment in the United States has changed substantially under the Trump Administration creating a need in the international community for timely and accurate guidance on how to navigate new challenges, particularly on the immigration front.  At the same time, states like New York and California have acted aggressively in the fields of privacy and labor law creating new challenges and opportunities for the foreign investor.  The United States, long a haven for foreign investment, has made important changes that owners of real property and corporations need to be aware of.
Doing Business in the United States covers nine areas of law:
Agency and Distribution
Corporate 
Intellectual Property
Employment 
Immigration 
Real Estate 
Inheritance, Wealth Protection and Taxation
Investigations and Regulatory Compliance  
Litigation and Dispute Resolution
The Dunnington Guide to Doing Business in the United States provides guideposts to international and foreign entrepreneurs and investors conducting business and managing assets in the United States on legal issues they should expect to face in the coming year.  The Dunnington Guide to Doing Business in the United States is aimed at decision makers needing a simple, practical approach to business and investment planning in the U.S.
About Dunnington Bartholow & Miller LLP
Dunnington Bartholow & Miller LLP was established in 1921 in New York City and provides a full range of legal services to individual and corporate clients across national borders. For more information, visit www.dunnington.com.
Dunnington's core clientele consists of corporations and individuals with international interests.  Dunnington's multilingual team of attorneys collaborate to provide practical, cost-effective advice in the areas of business, real estate, immigration, wealth protection, dispute resolution, intellectual property, and art law.  Dunnington has three areas of international focus serviced by its Italy, France and Latin America Desks.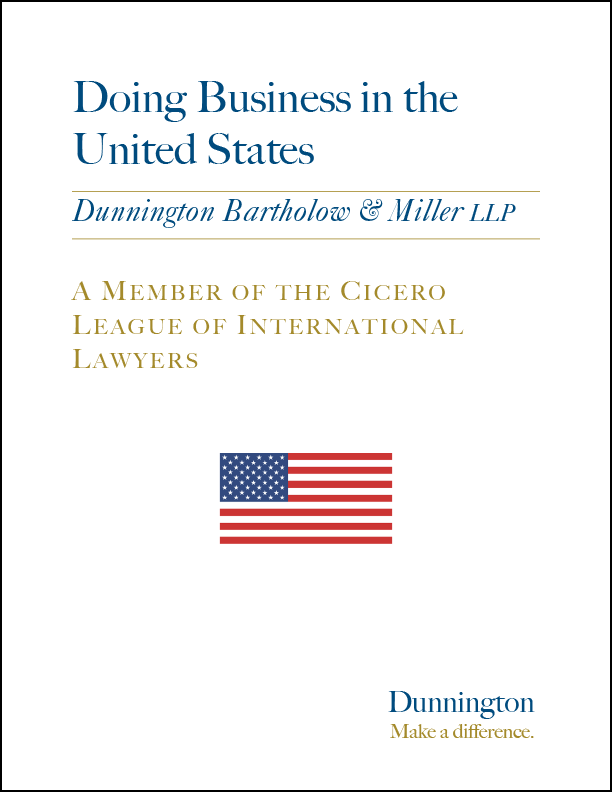 To Download a free copy of the Dunnington Guide To Doing Business In the United States, please fill in the form.